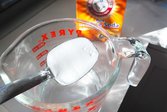 Wow. What an olfactory difference cleaning with a small box of baking soda can make.
How many of those hanging car air fresheners would it take to get rid of the olfactory assault from last night's fish dish? So many. Too many! Before you dress up your kitchen like a cardboard pine forest, take a deep breath — preferably through your mouth — and open your cupboard. Odds are you already have what you need to get rid of those food odors in one inexpensive little box. That's right. That unassuming baking soda is a walk-on-water miracle for your kitchen.
Baking soda, unlike most commercial air fresheners, doesn't mask odors, "it absorbs them," says Mary Marlowe Leverette, a home economist and blogger. Baking soda (sodium bicarbonate in a convenient box) neutralizes stubborn acidic odors — like those from sour milk — as well as other funky smells lurking in your home. It's a natural odor eliminator.
Ready to be wowed by all the ways baking soda can transform your kitchen? Buckle up and get sprinkling.
Dishwashers are supposed to be Hallowed Havens of Cleanliness. If you don't run the dishwasher every day, those rotten food smells can build up. Stop the stink by dumping a cup of baking soda into the dishwasher and running it through a rinse cycle. Ah! That's a nicer smelling place for your dishes.
If you avoid using your oven because of that special burning smell, scrub it with a paste made of a 1/2 cup of baking soda and a few tablespoons of water. Coat the oven with the paste, and let it sit overnight. Then, wipe it away with a damp cloth and spritz any stuck-on paste with some vinegar in a spray bottle.
That greasy range hood is adding to your kitchen's odor. Clean it with a mixture of about 1/4 cup baking soda, a good squirt of degreasing dish soap, and the hottest water you can stand (but be careful not to burn yourself!).
When you can't place an odor, drains and disposals are often the culprits. Make them stink- and (bonus!) clog-free with a mix of 1/4 cup baking soda, 1/4 cup vinegar, and some kosher salt. It'll neutralize the smell and give the drain a slightly abrasive scrubbing. Follow up with boiling water.
Clean smelly plastic food containers by scrubbing and soaking them in a mixture of hot water and baking soda.
Your microwave still smells like last weekend's bacon? Clean and deodorize it with a solution of 2 tablespoons of baking soda mixed with 1 cup water. Put the solution into an uncovered, microwave-safe container and zap on high for three minutes. Then, simply wipe down the interior.
Toss a handful of baking soda into your kitchen garbage pailand recycling container to control ongoing odors. Refresh every few days.
Composting may be virtuous,but it can attack your nose every time you open the bin. Fight back by tossing a handful of baking soda into the compost bin before each deposit. Occasionally clean the bin with vinegar. When it's dry, cover the bin's bottom with a layer of baking soda.
Making fish tonight? Prevent odors before they start by soaking raw fish in one quart of water with two tablespoons of baking soda. Leave it in the fridge for about an hour, rinse, and pat dry before cooking.
The best thing about the cheap, odor-zapping wonder of baking soda is you can use it guilt-free. "You're not going to harm humans or animals or ruin anything using baking soda," Leverette says. "Plus, after you're done deodorizing, mix it up with vinegar or lemon juice and some red dye, and make a cool volcano. The kids'll love it."