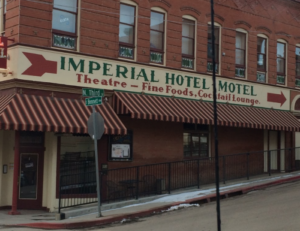 5 Truly Terrifying Ghost Stories That Prove Cripple Creek Is The Most Haunted City In Colorado
When it comes to picturesque mountain towns, there is no beating the charm and beauty of Cripple Creek. While most folks know the town for its mining history, casinos, and outdoor recreational opportunities, few realize that there is also a darker side, which includes these five terrifying haunts:
1. Imperial Hotel
Google / Pedro E. Caraballo
One of the most haunted hotels in all of Colorado is the (now closed) Imperial, which was constructed in 1896 and was rumored to be home to the spirit of its former owner. What made people think it was the ghost of George Long who was harassing guests? The deceased playboy was known for his womanizing ways, so when a spirit began groping female guests, the culprit was a no-brainer.
2. Bronco Billy's Casino
Google / Cora Simpich
Whether you go to Bronco Billy's to play, stay, or eat, make sure to keep your eyes peeled for the shadows of a ghostly young girl in the stairwell, who occasionally steps away from her post to go gaze out the window.
3. Outlaws and Lawmen Jail Museum
TripAdvisor/Andreas B
If you are walking around a former jailhouse, it only makes sense that there would be some creepy things happening, right? This is the case with the Outlaws and Lawmen Jail Museum; the town's old 1901 jailhouse that is allegedly occupied by several long-deceased inmates and guards.
4. Hotel St. Nicholas
Google / Patrick Klein
These poor Cripple Creek hotels just can't seem to catch a break! Originally built in the 1890s, St. Nicholas first served as a general hospital for the local miners. After the hospital closed in the 1970s, the building became a boarding house for several decades before being sold and re-purposed into an upscale hotel. The hotel maintains the original architecture, fixtures, and yes, the spirits. When you visit the luxe hotel today, you might just catch a whiff of Stinky; a bashful ghost who hides behind the stairwell and seems to emit a sewage-like smell. Visitors also report sightings of an incorporeal little boy named Pete, who is mischievous and will sometimes steal cigarettes from guests.
5. Gold Camp Road
AllTrails/Dairan Seale
Even though it is technically located just outside of Cripple Creek, Gold Camp Road is still worth noting, as it is one of the eeriest places in the state. As the legend goes, one of the three former railroad tunnels in the area completely collapsed while a school bus full of orphans was driving through, instantly killing the driver and children. As if the story wasn't horrible enough, the young spirits are said to have never left the tunnel and those traveling along the road report hearing the sound of the children screaming, while others claim to find small, dusty handprints on their car.