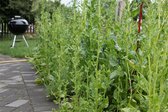 Gardening and cholesterol-lowering drugs cut death risk in high-cholesterol adults.
Gardening not only is good for your soul, it's good for your heart.
That's the conclusion of a new Veterans Affairs Medical Centre study that shows combining cholesterol-lowering drugs (statins) with moderate exercise (gardening) lowers the chance of premature death more than either drugs or exercise alone.
The study, conducted with more than 10,000 U.S. veterans with high cholesterol over 10 years, showed that participants who were fit and taking statins cut their risk of death over that decade by 70%, far better than participants who exercised without drugs (50%). Veterans who didn't exercise or take statins increased their risk of death by 35%.
Best part: It doesn't have to be strenuous. Moderate exercise, like gardening or walking, is enough to increase the ability of statins to stave away the grim reaper.