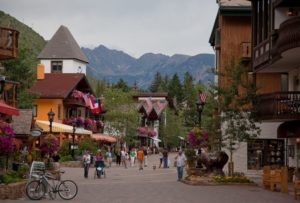 When it comes to lunching in Colorado, there is no shortage of memorable options to choose from. From a scrumptious brunch at Snooze all the way to the farm-to-table goodness at Grand Junction's Bin 707, there is truly something for every palate! However, if you want a midday meal experience that is as unique as it is tasty, you are going to love lunching with llamas at this one-of-a-kind Colorado destination.
Vail is known for its nearby outdoor recreation, charming downtown area, and must-attend events and festivals…
Wikimedia Commons
…but did you know that it is also home to Paragon Guides and a "Take a Llama to Lunch" hike?!
Paragon Guides Facebook
Running from late spring to early fall, "Take a Llama to Lunch" consists of three different options, including the Arrowhead Llama Lunch…
Paragon Guides
This easy hike is a half-day journey and promises a fun and relaxing experience for everyone in the family!
…Backcountry Llama Lunch…
Paragon Guides
A "wilderness based lunch on a local hiking trail" that lasts all day and features moderate to difficult trails.
…and even Wine and Cheese with Llamas.
Paragon Guides
Wine, cheese, AND llamas? What more could you ever want?!
TripAdvisor/Ncrunr
Prices for "Take a Llama to Lunch" trips begin at $415 for two and include not only two friendly llamas, but also a guide, red-checkered picnic lunch, snacks, and water.
To learn more about Paragon Guides – or to book your llama lunch – please visit their website.
TripAdvisor/management