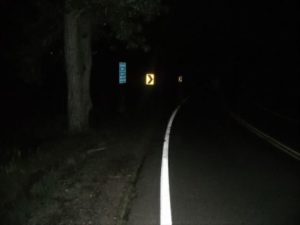 Halloween is still a few months away, but Colorado's ghosts and ghouls don't stick around just for the spooky season. After all, why would spirits care what day it is when they have some serious haunting to do?! I'll admit that I love planning way in advance when it comes to holidays (please tell me I'm not the only one…), which is what inspired this article; however, the paranormal activity on these five haunted streets in Colorado can be seen just about any time you please… if you're brave enough to drive down them, that is…
1. Riverdale Road (Thornton)
Haunted Locations, Myths & Legends Facebook
While Thornton may seem like an innocent enough part of Denver suburbia, it is anything but, due to its terrifying Riverdale Road. What makes this seemingly "normal" street so spooky?
According to legend, Riverdale Road is the setting for many morbid tales, including slave lynchings, a deranged man murdering his wife and children by setting their mansion on fire, and even a mysterious underground chicken coop that was once said to be home to conjured demons and spirits.
As if all of the above wasn't reason enough to proceed with caution, Riverdale Road is also the supposed home of the ghost of a deceased Camero driver who challenges (living) motorists to drag race him to their death. (Needless to say, you will not be seeing me driving along Riverdale Road any time soon…)
2. County Line Road/Third Bridge (Strasburg)
Third Bridge Facebook
Located just east of Denver is the small town of Strasburg and the iconic Third Bridge (shown here with its distinctly painted #3). Situated just 14 miles east of Aurora on County Line Road, the Third Bridge is rumored to be plagued by the paranormal, due in part to a fatal car accident involving local teens, as well as an alleged Native American massacre that took place near the spot several centuries ago.
If/when you go, listen and look carefully for the sounds of beating drums and the shadows of a mysterious man on a horse.
3. Gold Camp Road (Colorado Springs)
Flickr/mark byzewski
Welcome to the historic, albeit terrifying, Gold Camp Road; a series of three arched tunnels that once served both the railroad and passing motorists. As the story goes, one of the tunnels (pictured above) completely collapsed on a school bus full of orphans, instantly killing the driver and children. When ghost hunters and thrill-seekers visit today, they claim to hear the sounds of screaming children from deep within the condemned tunnel and also find small, dusty handprints on their cars.
4. Kiowa Creek Train Bridge (Bennett)
Paranormal Productions, LLC Facebook
The poor Eastern Plains just can't seem to catch a break… located just down the road from the Third Bridge, the Kiowa Creek Train Bridge is said to be the location of a historic train wreck that killed most of the cars' passengers. Keep your eyes peeled for the sight of a shadowy ghost train riding the rails over this creepy road.
5. Cheesman Park (Denver)
Wikimedia Commons
While the road itself isn't haunted per se, the park surrounding it sure is! Located in Denver's historic Capitol Hill neighborhood, the popular Cheesman Park sits atop the old Prospect Hill Cemetery, which is why the area is now rumored to be occupied by the spirits of those buried on the property.
Instead of exhuming the bodies and re-locating them when designing the park, a stingy architect purchased multiple child-sized coffins, chopped up the bodies in order to make them fit, and threw dismembered corpses around the grounds during the process. Yikes. It's no wonder there are some unrested spirits here.