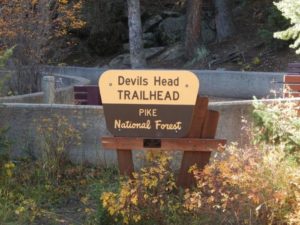 The leaves in Colorado are already changing, which means now is the perfect time to get outside and take in the magical surroundings. One of our favorite ways to do this, of course, is by hiking, which is why we recommend trekking this easy trail that you are guaranteed to love:
Tucked away near Sedalia is the historic Devil's Head Lookout; a site on the National Register of Historic Places that boasts some of the best views in all of Colorado.
TripAdvisor/Tim B
Originally established in 1912 (and built in 1919), Devil's Head is now home to one of the best hikes in the state, thanks to its nearby 1.4-mile dirt trail.
TripAdvisor/Brent B
Beginning at the Devil's Head Campground, the trail features a winding dirt path…
Flickr/sfgamchick
…wildlife sightings galore…
All Trails/Jazmin Rangel
…and, of course, the namesake tower, complete with views!
Flickr/sfgamchick
While Devil's Head is stunning year round, it truly comes to life this most colorful time of year.
All Trails/Tracy Carsten
Please note: While the trail itself is less than two miles, it has an elevation gain of almost 1,000 feet, plus 143 steps to get to the top of the actual tower.
TripAdvisor/kpurc2
To reach the Devil's Head Lookout Trail, head west of Sedalia on Highway 67 for roughly 10 miles until you reach Rampart Range Road, then turn left (south). Drive down Rampart Range Road for 8.5 miles to reach the trailhead.
All Trails/Chris Barnard