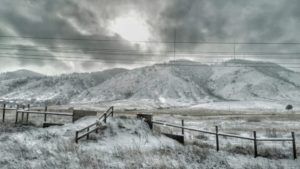 Fall in Colorado is typically considered the best time of year to enjoy our nature and views, but winter actually boasts some beautiful sights as well! If shimmery white snow makes you smile and cold temperatures don't seem to bother you, we have the perfect spot for you to enjoy this time of year, from atop this Colorado mountain:
Located just 20 minutes from downtown Denver is the beautiful Lookout Mountain; a 7,377-foot-tall mountain that boasts some of the best views in the state.
Flickr/MomentsForZen
Nestled away on the eastern part of the Front Range near Golden, Lookout Mountain is not just your typical peak, as it also houses such attractions as the Buffalo Bill Museum and Grave…
Flickr/Wally Gobetz
Consisting of several exhibits, The Buffalo Bill Museum and Grave has something for everyone, including hands-on worksheets and games, special events, and stunning artifacts that everyone in your group is sure to love.
…Lariat Loop and Trail…
Flickr/Kent Kanouse
Whether you drive the lonely road or hike the 4.6-mile path, you are guaranteed to never forget your visit to Lariat!
…and even a nature center and preserve!
TripAdvisor/AceMullac
When you visit the preserve, plan to stay awhile, as it houses a state-of-the-art playroom and observation center, walking trails, and wildlife sightings.
While we love everything that the area has to offer, our favorite part of all would have to be the views like this…
Flickr/Adam Meek
…that…
TripAdvisor/dshendri
…and, of course, the other.
Flickr/Alan Sandercock
Who says that fall is the prettiest season in Colorado?! Winter is where it's at!
Flickr/Alan Sandercock